Summer Read: Read for the Win is here at Tuscola Public Library! Be sure to sign up for our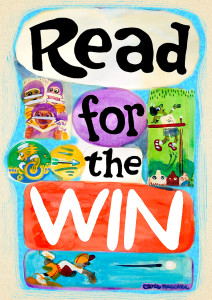 child, teen, or adult summer read program! Sign up at our Summer Opening Bash on June 1, @ 10am for some added fun and diversion (and be sure to check out all the events we have upcoming in our newsletter, including movies @ the park, toddler dances, and more)! For children accomplishing their reading goals every week, they will receive a prize in addition to a coupon for an 8″ pizza from Monicals for completing all 5 weeks. All children who finish by July 16 will be entered into a drawing for the grand prize: a family pool pass for the summer of 2017 at the Pool in Ervin Park.
Teens that accomplish their 5 weeks of reading goals will receive a $5 Dairy Queen Gift Card, as well as being entered in to win the grand prize of a $50 Amazon gift card and $25 gift certificate to Flesor's Candy Kitchen.
Adults can either read or complete other tasks that benefit the library and the community in order to receive a Library Perks Card, which features coupons for money off fines, faxes, copies, and such. They will be entered into a drawing for the grand prize of $25 gift certificate to The Pantry, $50 gift card to the IGA, and a $50 gift card to the Tuscola Home Center.
Signups continue into next week, and the program itself starts June 6, runs for 5 weeks along with a catchup week of July 11-16.